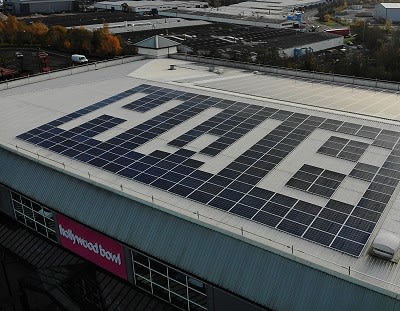 Green Nation has reached a milestone with its first large subsidy-free rooftop installation and its first on a bowling alley!
The 226 kWp system was installed by Watt Energy Saver and project managed by Green Nation at the Hollywood Bowl site at Bentley Bridge, Wolverhampton.
It is also ground-breaking in that it's one of relatively few rooftop installations carried out with a Power Purchase Agreement (PPA) agreed with the tenant of a building that is itself owned by an institutional landlord. This required all three parties to agree the terms of a series of documents and was a time-consuming exercise, but one that should become shorter as Green Nation and Hollywood Bowl take that experience to other sites.
Ben Carne, Energy and Safety Manager at Hollywood Bowl, said: "Hollywood Bowl is committed to doing our bit to reduce the carbon-intensity of our business, and this solar installation is a big step in that direction. It is a visible sign of our commitment, not least to any flights passing overhead!"
Green Nation CEO Jonathan Thompson commented: "This is a really good installation built to a very high standard and will produce electricity for many years to come. This project gave us the opportunity to learn about managing complexity with a difficult to access urban site and working with a big, institutional landlord. This is valuable experience and will stand us in good stead for the future. Hollywood Bowl is a really progressive company to work with and we look forward to carrying out more installations with them in the months and years to come."
See more in our case studies.